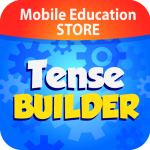 Mobile Education Store has added another great tool to their language development toolbox, with their latest app, Tense Builder.  As with the other apps, Kyle Tomson did extensive field testing with speech therapists and their students.  This shows in the attention to detail in the animated videos, student directions, short and long lesson explanations, and the various options in the settings menu.
There is a comprehensive video tutorial on the settings screen that is a very clear introduction to Tense Builder. Check out this sneak preview. Also on the settings page, you can set the level of play, choose to study regular and/or irregular verbs, and past, present, and/or future tenses.  An additional feature is the option to select which verbs you want to target.  You can choose the long lesson (good for introducing a new verb or tense) or the short lesson (good for review of previously introduced verbs/tenses).  Audio instructions can be turned on or off, as can correct answer reinforcement, and the option to record the correct answer or not. You can save information for more than one student, which is a great option.
As with other Mobile Education apps, the student can record a sentence to practice the verb.  My nephew, who is 22 and autistic, is sometimes reluctant to record his voice.  However, he likes to try out different voices for fun and practice and then listen to them.  Recorded sentences can be saved. The student's results can be emailed to their parents or classroom teacher.
The following images show the verb "Finish." The student taps play and a short lesson about the verb finish plays.
The following screens show the picture the student sees as the audio describes each verb tense as it applies to the picture.
Next, the student is directed to tap the picture that corresponds to the sentence (which is also spoken for the student). If the student chooses incorrectly, a short review is presented.
Next, the student is prompted to record the sentence.
The student can then play the sentence back, re-record it, save it, or go on to the next sentence.
After trying out Tense Builder, my nephew said:
It's funny and educational.  I like the animations the most.  
I asked him how he felt when he got something wrong.
It bothered me, but I liked the chance to learn something new.
Should they change anything? 
No, everything is fine.  Present tense was easy but past tense was hard. 
Later, after we started playing Scrabble, my nephew said, "The kid peeled the banana." The comment was out of context, but he told he was practicing past tense, like in Tense Builder.  I guess the lessons sank in!! 
Tense Builder is available in the iTunes store for $14.99.